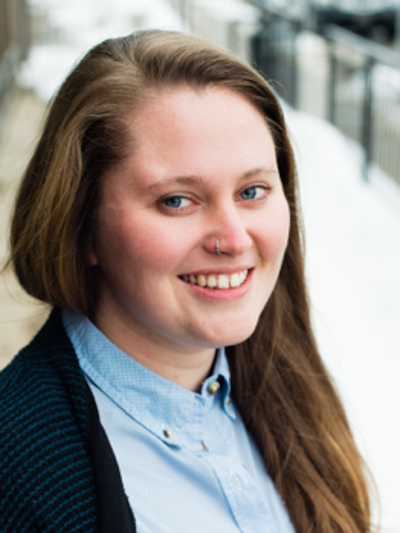 info
@sharedvaluesolutions.com
Allie Mayberry, M.A., B.Sc.
Wildlife Biologist & Social Research Consultant
Allie Mayberry is a terrestrial wildlife specialist with a background in ecology and geography. She has diverse experience working at the intersection of wildlife management and environmental regulatory projects, and community development initiatives with Indigenous communities across Canada and internationally. Allie is also a keen naturalist who has worked in environmental education, natural history interpretation, and multimedia public outreach initiatives.
She regularly supports Indigenous communities with environmental impact assessment processes for a variety of project types including transmission lines, pipelines, roads, and mines. This includes completing reviews of technical and regulatory documents focused wildlife-related concerns, conducting Indigenous knowledge and land use studies, developing environmental monitoring programs and providing training, analyzing policy, and assisting with scientific field studies. Allie is also an experienced natural and social science researcher, and holds a Bachelor of Science (Biology, specializing in shorebird migration ecology) from Mount Allison University and a Master of Arts (Geography, specializing in human-wildlife conflict) from the University of Guelph.
Allie is passionate about fostering positive working relationships between communities, governments, and the private sector and helping them to achieve their wildlife and natural resource management goals.
Additional Superpowers
Wildlife Ecology | Community Consultation and Engagement |Environmental Impact Assessment | Indigenous Knowledge Studies | Natural and Social Science Research Projects| Human-Wildlife Conflict | Multimedia and Visual Communications |